Konstantinos Kardamis
---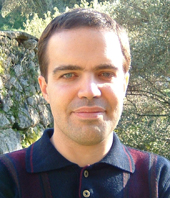 Kostas Kardamis graduated from the Music Department of the Ionian University in 2000, after submitting a thesis in the field of Neohellenic Music (supervisor: Prof. Haris Xanthoudakis). In 2002 as scholar of the «Panayotis and Effie Michelis Foundation» he obtained the title of Master in Advanced Musical Studies from the Music Department of Royal Holloway, University of London (supervisor: Prof. David Charlton). In 2006 he concluded his doctoral studies in the Ionian University and successfully presented his thesis entitled The "pre-solomian" Nikolaos Halikiopoulos Mantzaros and his works(supervisor: Prof. Haris Xanthoudakis).
He has contributed in the activities of the Athens Megaron Concert Hall, the Greek Composers Union, the Cultural Foundation of the Piraeus Group and participates in panhellenic and international conferences and colloquia. His published studies and articles are mainly focused on Neohellenic music, with particular interest in 18th and 19th centuries, as well as on the opera and musical theatre. His research interests also include band music and the interaction of music, society and politics.
Since 2002 he is a faculty member of the Music Department of the Ionian University. He is also a member of the Hellenic Music Research Lab of the aforementioned department, of the editorial committee of the musicological journal Moussikos Loghos and of the Greek committee for RILM, as well as General Editor of the series Monuments of Neohellenic Music. Since 2003 he is the curator of the Archive and the Museum of the Philharmonic Society of Corfu.
Parallel activities include his interest for brass instruments and brass playing. His particular occupation with tuba, an inclination resulting from his early experiences in the Philharmonic Society of Corfu that were further cultivated during his studies in the Ionian University, does not exceed the limits of the positively approached amateurism. He was student of Nikos Zervopoulos (National Opera House) and George Rarakos (Athens State Orchestra), from whose class obtained a tuba certificate. He participated in masterclasses of George Rarakos, Roger Bobo and Hed. Jan Renes, as well as in brass ensemble seminars (Melos Brass, Fred Mills, Ben van Dijk, Walter Hilgers). He is coordinator of the Ιonian Brass Quintet, founding member of the Just Tuba Quartet and is proud to have been a bandsman of the Egham Brass Band (UK).
Personal website: http://users.ionio.gr/~kardamis/eng/
Updated: 29-02-2016
---
Back